KENK is an award-winning songwriter whose music is best described as "guitar-driven, foot-tappin' rock and roll, with modern and classic influences with a dash of shred". His songs speak of life, love, and gratitude hidden in stories of car rides, tattoos, and trailers. KENK's sound is personal, soulful, and bleeds into his songs and live performances.

In 2018 he formed a trio called "Three Feet From Gold". Featuring strong vocal harmonies and exceptional musicianship, they enjoy playing a mix of original and cover music.
---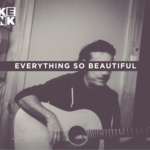 KENK has released two full-length albums and one EP. His most recent, "Everything So Beautiful", was released in 2015. This inspiring collection of acoustic songs continues to be streamed regularly via Spotify and iTunes and has inspired people of all ages and backgrounds.
In 2010, he released the EP "The Feel Good Series", introducing rockers "Breathing Hard" and "View Behind You". His first release was back in 2007 when he self-produced and played all instruments on "Finding 99" – a mixed collection of thoughtful rockers and ballads, including the popular "Tattoo" and insightful "Dirty Windows". His songs have been used in movies, documentaries, and as a television morning news theme song.
"The lyrics, the harmony, the beats, the guitar, the voices: it all just feels good."
– Wendy K., Music Lover